TBT won
first place
at the UFOs (Universal Fanfic Open awards) in the Witch Hunter Robin category!!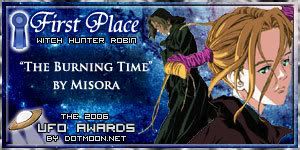 Go
here
for the UFO Awards website to see the other winners in WHR and other categories!
Nominate
your favorite fics for next year's 2007 awards! And additionally, check out
dotmoon
, the blog for the website.
Thanks to everyone who nominated, voted, and competed! I was up against some pretty stiff competition. Next year's awards should be just as exciting!
Current Mood:
chipper